The facts
Buyers have changed the way they buy. Prospecting techniques like cold calling and cold emailing are increasingly ineffective and actually damage your professional brand. Sales methodologies that do not seamlessly incorporate industry shifting trends like the internet, social media and mobile technologies are obsolete. To remain relevant, you can no longer carry on with outdated sales methodologies, strategies and tactics. You need to become just as digital as your customers.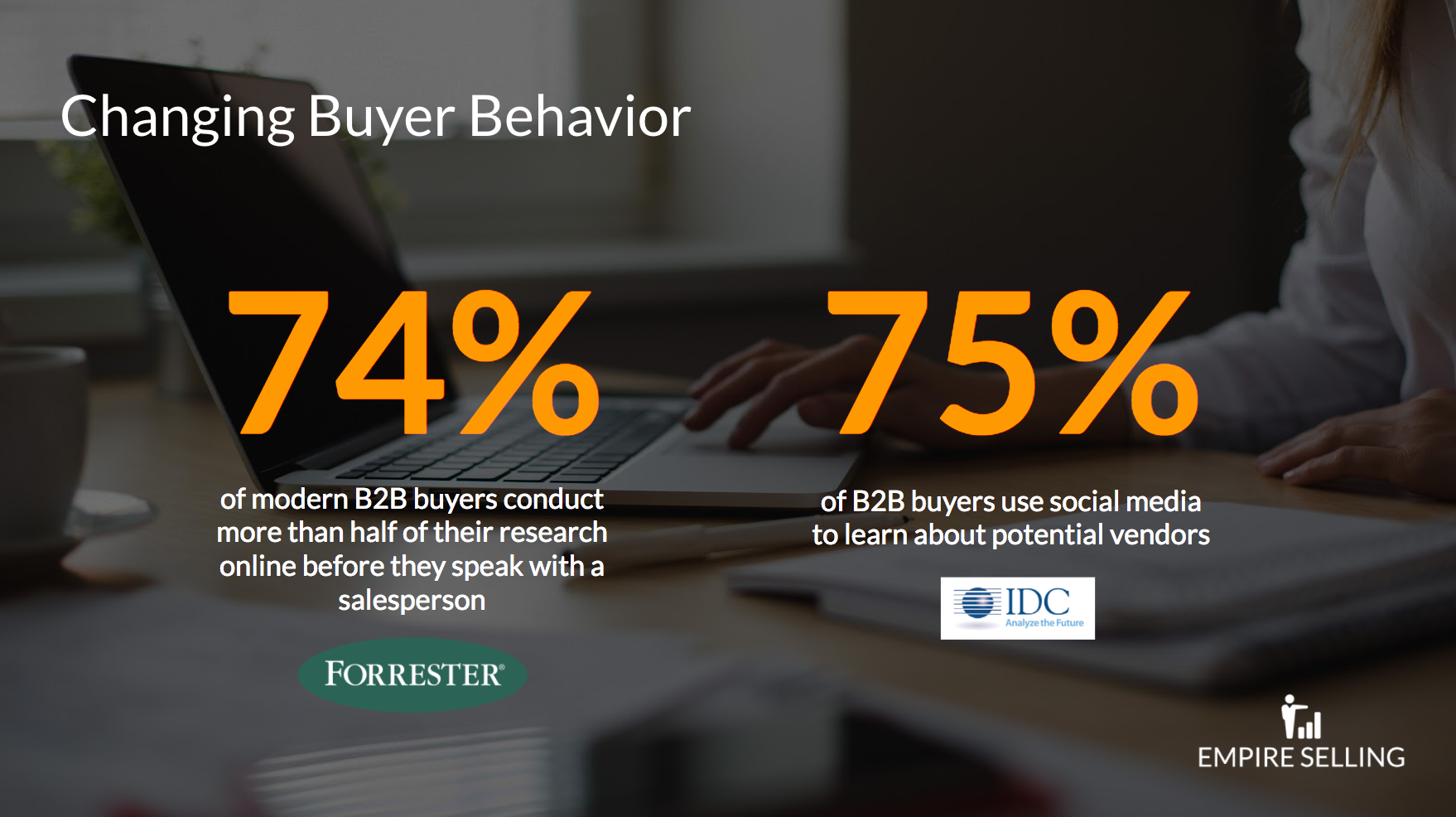 Why Empire Selling Online?
Empire Selling is the world's only true digital selling methodology created by one of the founding fathers of social selling at LinkedIn, LinkedIn Sales Solutions and LinkedIn Sales Navigator.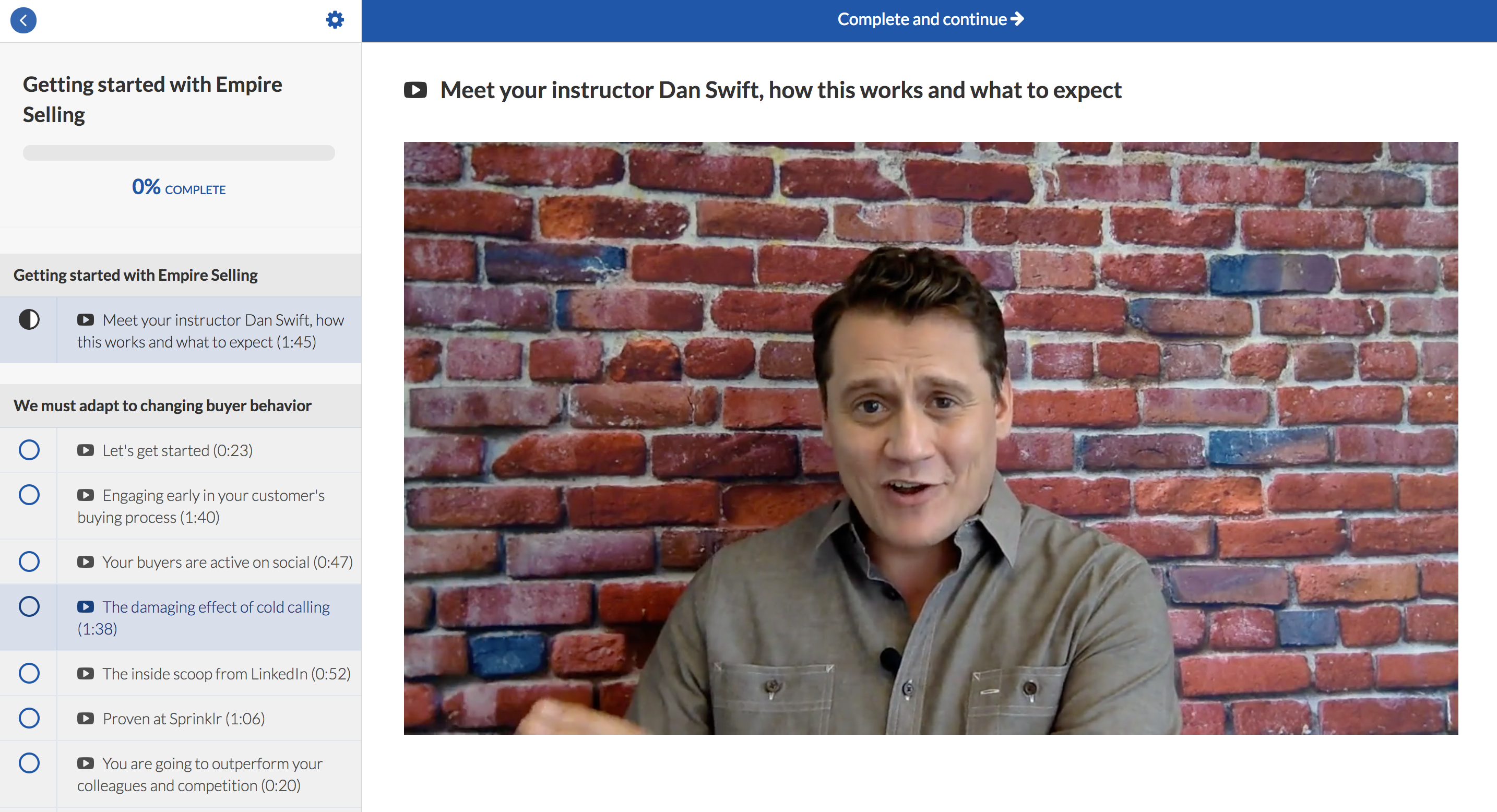 What will you learn?
Modern buying behavior and the impact on traditional sales outreach. Time is our most important commodity and we must spend it on activities that will have the biggest ROI.
Creating a digital customer-first professional identity (on LinkedIn, Facebook and Twitter) positioning yourself as a trusted advisor to your buyers. If your outreach is good enough, and your buyer is intrigued, the natural human reaction is to see who sent it. Without a robust digital presence, that does not elevate you from typical salesperson to trusted advisor, oftentimes the prospect's interest stops here.
Building and nurturing your online professional and personal networks for warm introductions and new business opportunities. Why keep knocking on a closed door when an existing client, friend, colleague or family member could simply walk you in the door?
What else?
Executing a digital content strategy to generate net new leads. Not every buyer is in buying mode all the time. You must be ever present in their minds to develop their understanding of how you can solve issues, that in some instance they might not even know they have, and when they are ready to buy, they come to you and not your competitor.
Achieving industry thought leader status elevating you to the C-Suite to have true business conversations with budget owners. You get relegated to whom you sound. You stay at the C-Suite if you talk and share content that adds value at their level.
Finding and testing coaches, champions and economic buyers to fast-track sales cycles. You need a go-to-market approach for account planning, relationship mapping, and engagement plan… and then you need to execute. There are 6.8 people in the average B2B buying decision making process and 28 others that influence them. Are your sellers identifying them, building relationships with them, turning them into champions and creating a ground swell of need at all levels and areas of the 'must-win' accounts?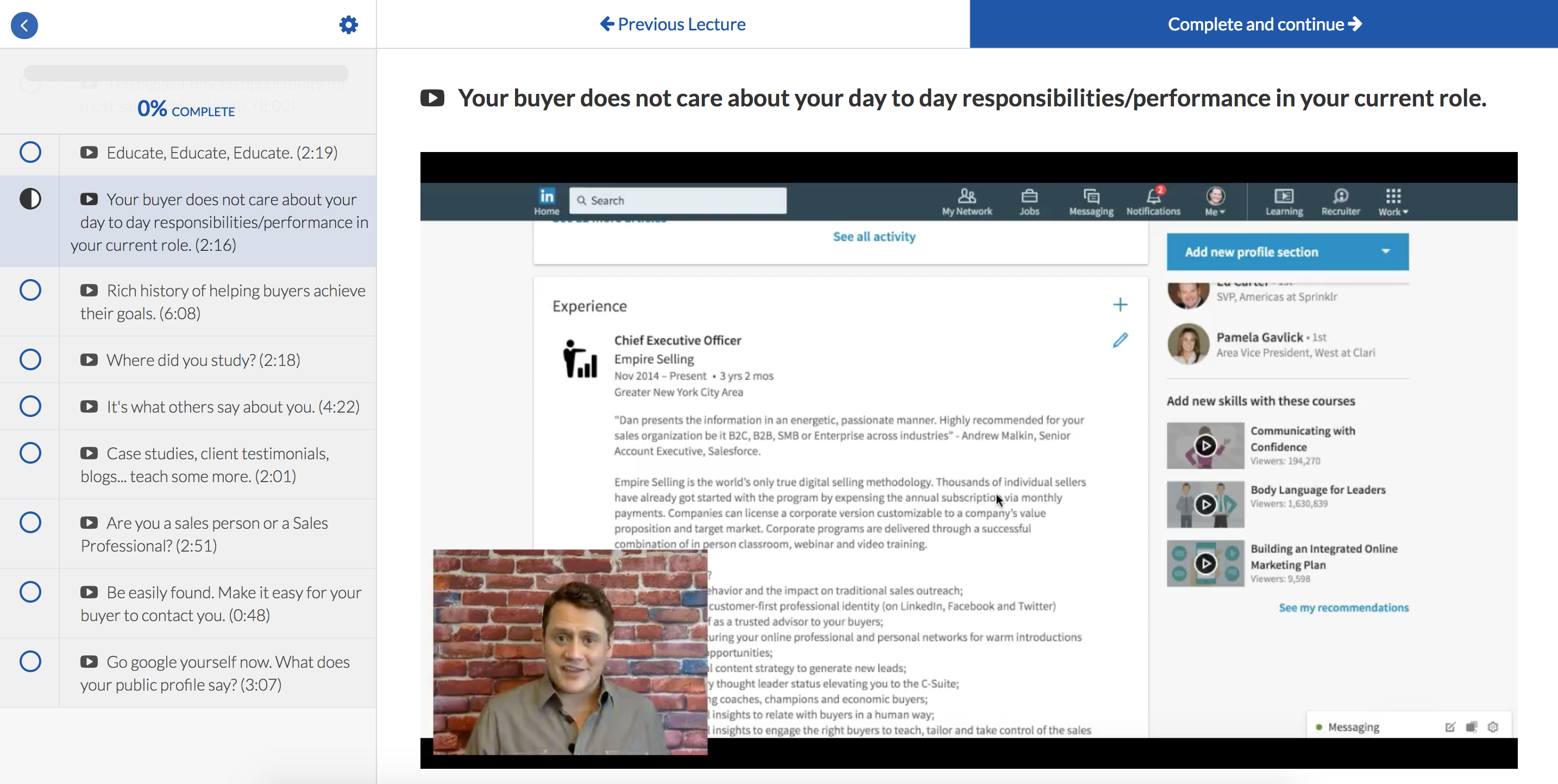 Anything else?
Leveraging digital insights to relate with buyers in a human way. People buy from people. Are your sellers selling in a human way and differentiating themselves from the competition or are they giving your competition the edge with in-human outreach that does not align to changing buyer behavior?
Leveraging digital insights to engage the right buyers to teach, tailor and take control of the sales process. Buyers are desperate to learn from sales professionals but sadly are experiencing seller and vendor fatigue. Sellers are not adding value to the buyer's journey. This is your opportunity to win mindshare.
Executing effective multi-threading into target accounts to control the consensus purchase. Too often sellers get stuck talking to one person within an account who goes quiet and sales stall or die. It is critical for salespeople to multi-thread effectively at all levels within a target account and for success professionals to do the same to hunt for net new opportunities.
Partnering with procurement to close with precision, and much, much more.
How does it work?
A new concept or strategy from the methodology is introduced to you at the start of each module, quickly followed by a demonstration of the tactics to execute against the concept or strategy. Dan weaves in real-life stories throughout the program from his own experience leading and selling with digital at both LinkedIn and Sprinklr. You are encouraged to pause the program throughout to go and execute against a concept or strategy, before coming back to continue your digital selling journey.
What else do I get?
You are automatically entered into an active online global community of forward-thinking digital sales professionals hosted on LinkedIn. Real time discussion around each component of the methodology allows you to ask questions of your peers. The group is moderated by Dan.
Anything else?
Yes. You also gain access to monthly webinars hosted by Dan. He interviews top performing sales professionals and sales leaders from his network who are already successfully leveraging the Empire Selling methodology.
Still not convinced?
According to a recent study by EY, digital sellers spend less time on non-productive activities and are 5.7 times more likely to secure meetings than traditional sales reps. Digital sellers create bigger pipelines with more leads and generate twice as many sales opportunities as traditional sales reps. Digital sellers convert more leads to sales with 25% higher conversion rates than traditional sales reps. Digital sellers spend less time finding the right contacts and are 2.7 times more likely to identify the best path into a potential client than traditional sales reps. Digital selling has boosted their average deal size by 64% and digital sellers hit 150% of quota on average.