What is Empire Selling Online?

Empire Selling is the world's only true digital selling methodology created by one of the founding fathers of social selling at LinkedIn, LinkedIn Sales Solutions and LinkedIn Sales Navigator. If your company is not ready to embrace digital but you know it's critical to survive and thrive in an increasingly digital world, Empire Selling Online allows you to get started today and learn the fundamentals of the methodology on an annual subscription basis.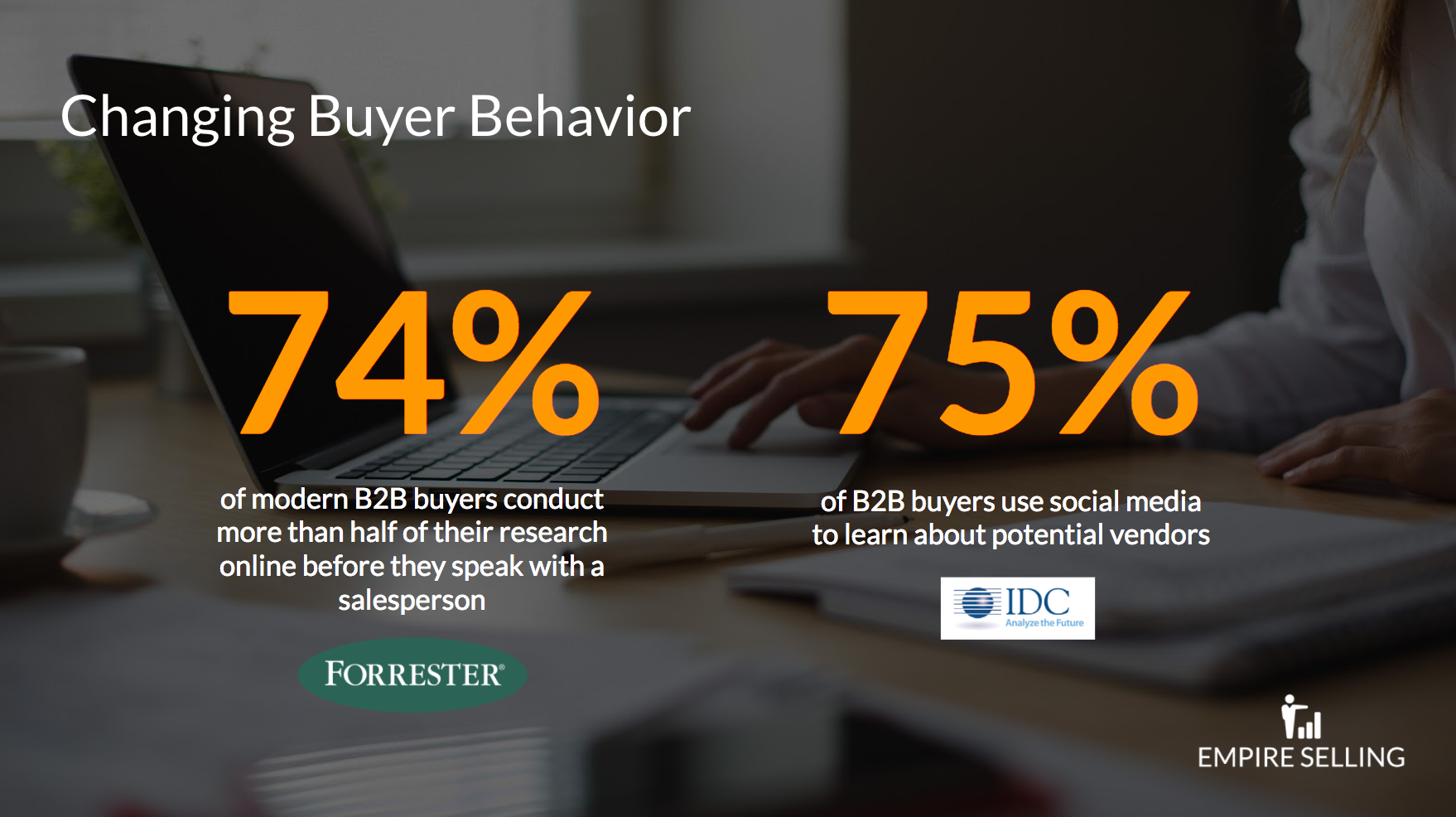 Understand the modern buyer
More than 58% of the buying process has taken place before a salesperson speaks with a buyer (CEB). You will learn about modern buying behavior and how to think like a buyer in the world of the consensus purchase.
Achieve trusted advisor status
If your outreach is good enough, and your buyer is intrigued, the natural human reaction is to see who sent it. In today's digital world, buyers are looking at your LinkedIn profile. You will learn how to create a LinkedIn profile to position yourself as a trusted advisor resulting in more new business meetings.
Get meetings quickly
Why keep knocking on a closed door when an existing client, friend, colleague or family member could simply walk you in the door? Learn how to build and nurture their LinkedIn network to secure warm introductions and referrals into the right people at target accounts quickly and effectively.
Educate your prospects
You must be ever present in the minds of your target buyers so you are the first person they contact when ready to engage. You will learn how to execute a content strategy on LinkedIn that educates their networks and generates net new business opportunities.
Be human
People buy from people. You will learn how to leverage digital insights to relate with buyers in a human way on-and offline.
Multi-thread effectively
There are 6.8 people in the average B2B buying decision making process (HBR). Too often sellers get stuck talking to one person within an account who goes quiet and sales cycles stall or die completely. It is critical for salespeople to multi-thread effectively at all levels within a target account. You will learn how to find and test coaches, champions and economic buyers to fast-track sales cycles.
Shorten sales cycles
Unfortunately, buyers are experiencing seller and vendor fatigue. Salespeople must add value to the buyer's journey to differentiate from the competition and elevate themselves from the noise. You will learn how to leverage digital insights to teach, tailor and take control of the sales process, shortening sales cycles.
Close larger deals faster
You will learn how to achieve industry thought leader status on the world's largest professional network to elevate yourself to the C-Suite and gain access discretionary budgets.
And so much more...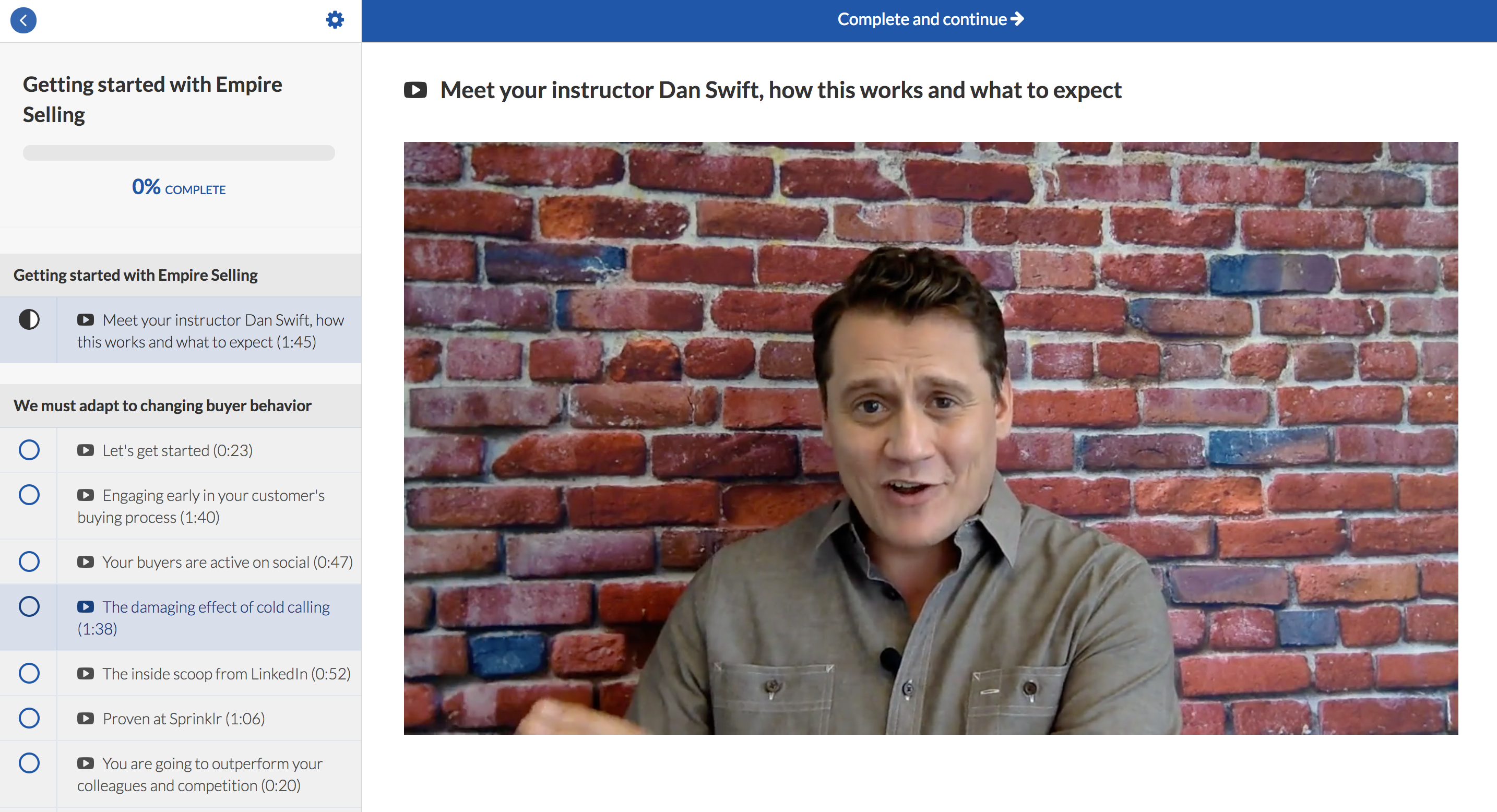 How does it work?
A new concept or strategy from the methodology is introduced to you at the start of each module, quickly followed by a demonstration of the tactics to execute against the concept or strategy. Dan weaves in real-life stories throughout the program from his own experience leading and selling with digital at Thomson Reuters, LinkedIn, Sprinklr and now as CEO of Empire Selling. He encourages you to pause throughout the program to go and execute against a concept or strategy, before coming back to continue your digital selling journey.
What else do I get?
You are automatically entered into an active online global community of forward-thinking digital sales professionals hosted on LinkedIn. Real time discussion around each component of the methodology allows you to ask questions of your peers. The group is moderated by Dan.
Anything else?
Yes. You also gain access to monthly webinars hosted by Dan. He interviews top performing sales professionals and sales leaders from his network who are already successfully leveraging the Empire Selling methodology.
Still not convinced?
According to a recent study by EY, digital sellers spend less time on non-productive activities and are 5.7 times more likely to secure meetings than traditional sales reps. Digital sellers create bigger pipelines with more leads and generate twice as many sales opportunities as traditional sales reps. Digital sellers convert more leads to sales with 25% higher conversion rates than traditional sales reps. Digital sellers spend less time finding the right contacts and are 2.7 times more likely to identify the best path into a potential client than traditional sales reps. Digital selling has boosted their average deal size by 64% and digital sellers hit 150% of quota on average.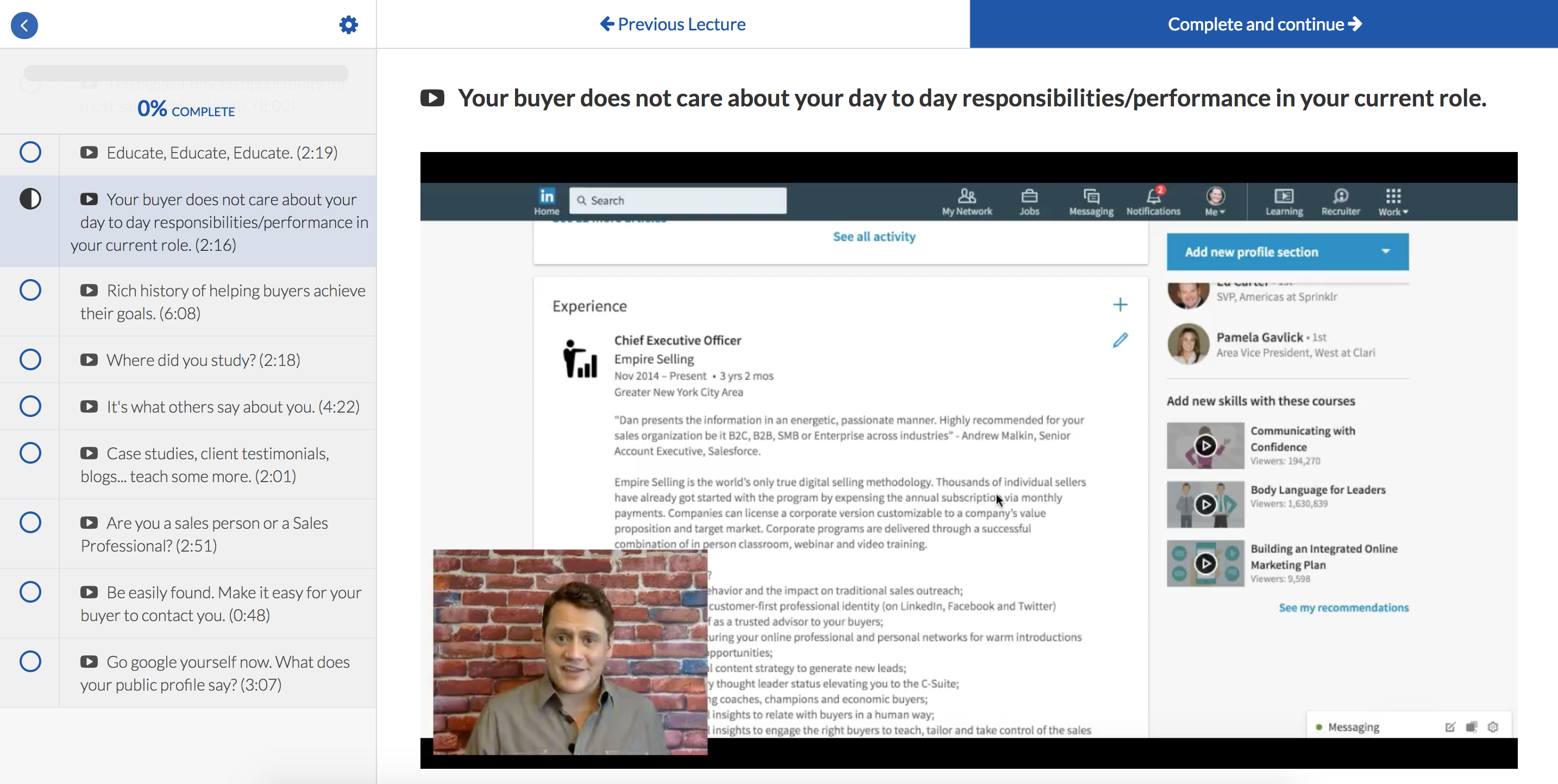 FAQs
When does my enrollment start and finish?
Your enrollment starts now and renews annually. It is a completely self-paced online program. You decide when you start and when you finish. That said, we strongly recommend diving right in. The sooner you learn the strategies and implement the tactics, the sooner you will be selling more and earning more.
How long do I have access?
After enrolling, you have unlimited personal access for the year across any and all devices you own.
Can I change or cancel my enrollment during the 12 month enrollment?
Unfortunately not. Whether you pay up front in full for the year, or prefer to make monthly payments, this is a one year commitment to us and to yourself.
Can I expense my enrollment?
Yes! Many employers find Empire Selling Online so valuable that they'll pay for their employees' memberships. You can access your receipts anytime from the payment history page.
How will we bill you?
We offer both monthly and annual billing. Depending on what option you choose, your membership will be renewed at the end of each month or at the end of each year. If you choose to pay annually, you'll save up to 13% compared to paying monthly.